Thank you for taking a moment to learn about Get Hooked NW. We are excited to get you paired up with the fishing trip you've been waiting for! Get Hooked NW is a full-time fishing charter serving Western Washington. We are proud to offer Seattle area saltwater charters, as well as guided river trips.Our premier fishing charter is owned and operated by Captain Matt Chandler. We have more than two decades of experience, and provide fully outfitted, and professionally guided fishing trips for anglers of all skill levels.
Get Hooked NW is located just north of Seattle but offers many fishing opportunities all about western Washington, from northern to southern Washington.
This includes the Skykomish River, Puget Sound (Mukilteo and Shilshole), the Wynoochee River, the Humptulips River, the Cowlitz River, and the Columbia River including the famous Buoy 10 fishery.
Less than an hour away from Seattle to the North is the Skykomish River fishing for summer salmon and steelhead.
The Puget Sound offers winter Blackmouth and summer salmon, when we fish there, we depart from either Shilshole Bay Marina which is 15 minutes from Seattle or Mukilteo Lighthouse Park which is just about a half hour north of Seattle.
If you're planning on booking a steelhead trip to the Wynoochee River you'll have just under a 2 hour drive if departing from Seattle.
The Humptulips River is a great choice for salmon and steelhead trips and is a 2.5 hour drive Southwest towards the coast of Washington near Ocean Shores.
A Sportsman's trip can be found on the Cowlitz River, chasing winter steelhead just over a 2 hour drive South of Seattle, it's just Southeast of the city of Chehalis.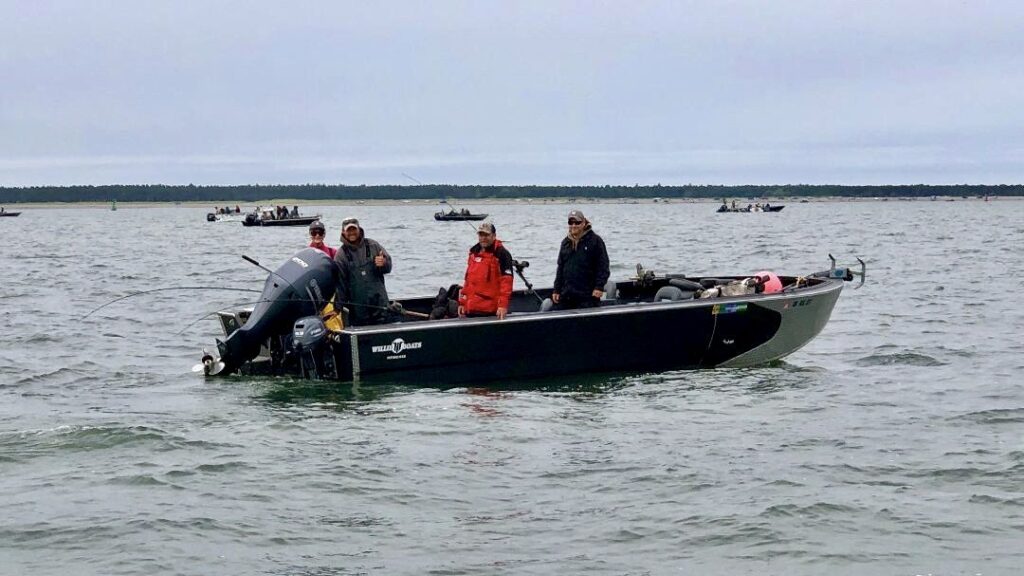 The Columbia River is massive and offers a number of fisheries along its miles of water. The prize of the NW, spring Chinook are our most sought after catch and we launch out of Woodland, a 2.5 hour drive South of Seattle in late March/early April to seek out these butterballs.
Another exciting choice on The Columbia River are the summer steelhead and chinook available late spring/early summer departing from Cathlamet, Washington. This fishery is well worth the 3 hour drive South from Seattle.
Come late summer into late fall we chase the salmon upriver from Kalama to Bonneville Dam which is 45 minutes east of Vancouver, Washington.
Our most widely known fishery is Buoy 10. With its sunshine, remarkable location and bounty of ocean fresh salmon, Buoy 10 draws anglers from all over. The fishery itself is a full 4 hour drive from Seattle to the mouth of the Columbia River. We launch on the Washington side from the Deep River Launch.
No matter what time of year, there is fishing to be had on the waters we fish with Get Hooked NW!